Schools Program
Schools Program
Schools Program
Circles in Schools
Schools Program
September 2013 marked the launch of our schools programs. This program has been a dream for NSRJS for many years due to the amount of files we receive that become criminal after originating in the school yards. NSRJS will be working closely with students, teachers, parents, and administrators in specific schools to collaboratively build a holistic approach to preventing conflict. NSRJS will provide group activities and facilitated dialogues that promote and develop strong communication and conflict resolution skills, social responsibility, emotional intelligence, and cultural awareness. In building capacity for restorative principles and practices, we envision a more inclusive, cohesive, and healthy school environment.
Circles in Schools:
Sitting in circle is the oldest form of communication. It is the way people in many cultures have traditionally come together to talk about important issues. Being in circle shows children that diversity is strength. We are all different, but equal, and consequently equally responsible for creating a safe space in which to communicate respectfully. Each of us brings unique strengths and gifts to our community, and circle is about coming together to honour our differences and celebrate our common ground.

In our Circles in Schools program, trained facilitators lead children through a series of games and activities that are developmentally appropriate and result in a greater understanding of themselves and others. This leads to deeper relationships, and a stronger community. Sharing stories in a safe, non-judgmental environment gives children a voice. When they feel as though they belong, that their voice matters, they are empowered to make a difference. And a core component of the circle process is the uninterrupted opportunity for each member of the circle to share his or her story. Children learn to be active, involved listeners. The use of a talking piece allows for unhurried, respectful sharing. The circle encourages openness, honesty, and the opportunity to slow down and reconnect with the core self.

Circles in Schools is a strengths-based program that gives our children and youth the skills to transform conflict, heal relationships, and create stronger communities themselves.
News
---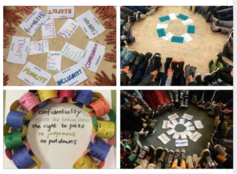 "Circles in Schools helps empower students through self-expression"  Click HERE to check out North Vancouver School District's blog post about NSRJS' Circles in Schools program! We're so thrilled to be able to sit... Read More
---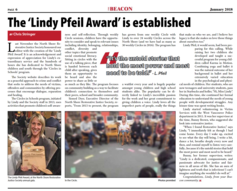 We were thrilled to see Lindy, the incredible person who started North Shore Restorative Justice Society's 'Circles in Schools' program, featured in the West Vancouver Beacon Newspaper recently (alongside a newly... Read More