NSRJ SPEAK OUT: Healthy Relationships
NSRJ SPEAK OUT: Healthy Relationships
Tuesday, February 13, 2018

Important: This event has already occurred.

6:00PM - 9:00PM
Community Room beside Lynn Valley Library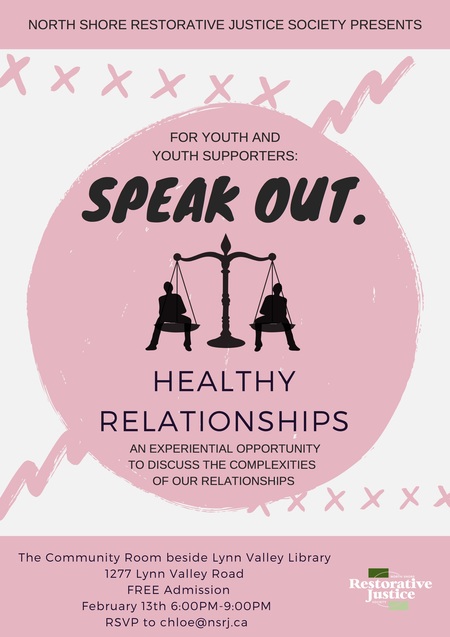 Heads up to youth and youth supporters! NSRJ's upcoming SpeakOut event, entitled Healthy Relationships: An experiential opportunity to discuss the complexities of our relationships, will be taking place on February 13th, from 6:00-9:00PM, in the Community Room next to the Lynn Valley Library (1277 Lynn Valley Rd, North Vancouver, BC, V7J 0A2). You are invited to come join us for an evening of reflection and dialogue surrounding the complexities of our relationships.
North Shore Restorative Justice Society's SpeakOut series offers youth and youth supporters a comfortable and supportive environment to engage in dialogue. These events use the circle process and experiential games and activities to explore and unpack the topics at hand.
This event is FREE and open to ALL youth and youth supporters. Youth who participate in the event will also receive 3 hours of community service. Refreshments and light snacks will be provided.
We hope you can join us!
Please RSVP through the link below, or to chloe@nsrj.ca.
Program Speak Out Series
Return to Events
---